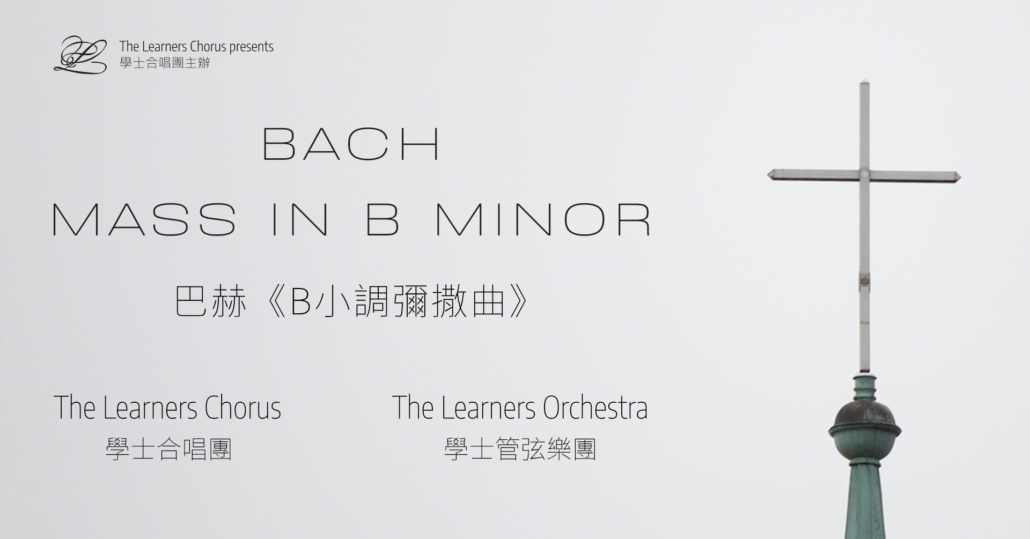 Mass in B minor, BWV 232
Johann Sebastian Bach
Missa

Kyrie eleison
Christe eleison
Kyrie eleison
Gloria in excelsis Deo
Et in terra pax
Laudamus te
Gratias agimus tibi
Domine Deus
Qui tollis
Qui sedes
Quoniam tu solus sanctus
Cum Sancto Spiritu

Symbolum Nicenum

Credo in unum Deum
Patrem omnipotentem
Et in unum Dominum
Et incarnatus est
Crucifixus
Et resurrexit
Et in Spiritum Sanctum
Confiteor
Et expecto

Sanctus
Osanna, Benedictus, Agnus Dei et Dona nobis pacem

Osanna in excelsis
Benedictus
Osanna in excelsis (repetatur)
Agnus Dei
Dona nobis pacem
– NO INTERMISSION –
Apollo Wong, music director & conductor
Candice Chung, soprano
Samantha Chong, mezzo-soprano
Bonnie Liu, mezzo-soprano
Freddie Tsang, tenor
Caleb Woo, bass
The Learners Chorus
The Learners Orchestra
Apollo Wong, music director & conductor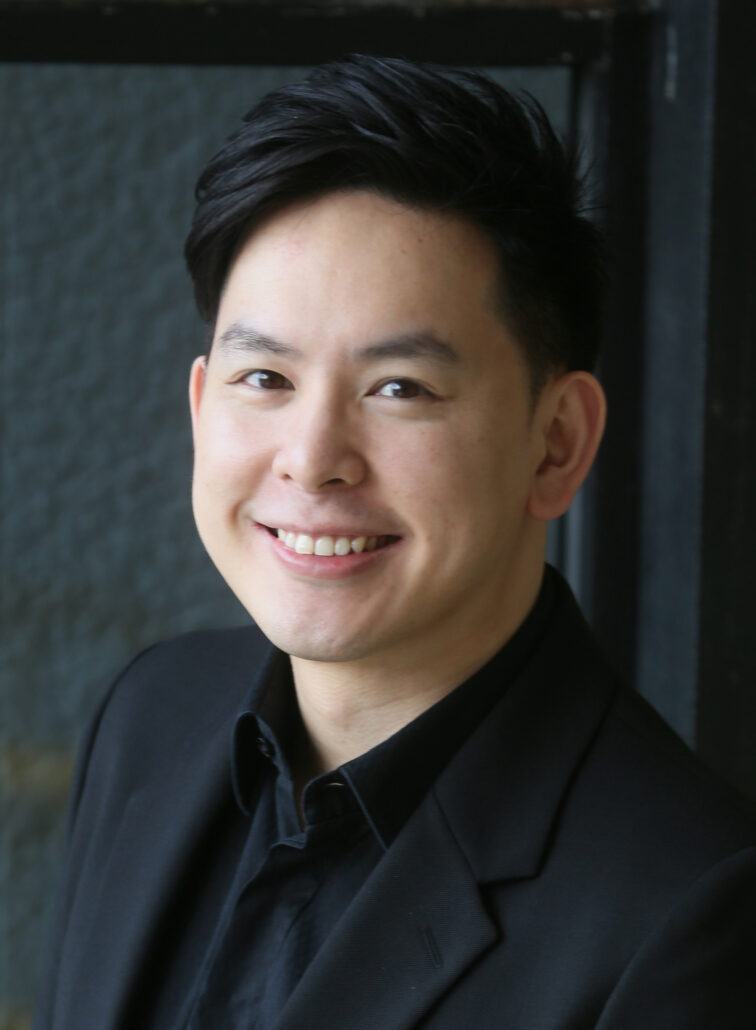 A native of Hong Kong, Apollo Wong is a conductor, operatic bass and educator.  Educated in the United States and Germany, he studied voice with Vladimir Chernov, Juliana Gondek and Sami Kustaloglu.  He was the winner of Palm Springs Opera Guild Vocal competition and the Pasadena Opera Guild Vocal Scholarship.  In 2019, Wong has won first place at the Hong Kong Choral Conducting Competition and the Asia Pacific Youth Choir Award.
Wong has sung major operatic and musical roles including Figaro (Le Nozze di Figaro), Don Alfonso (Così fan tutte), Sarastro (Die Zauberflöte), Bottom (A Midsummer Night's Dream), Frère Laurent (Roméo et Juliette), Colline (La Bohème), Simone (Gianni Schicchi), Geppetto (Pinocchio) and Javert (Les Misérables), among others.  Amongst his concert and oratorio repertoire, he has notably both sung the bass solos and conducted Brahms' Ein Deutsches Requiem, Faurè's Requiem, Handel's Messiah, Mahler's Symphony No. 8 "Symphony of a Thousand", Mozart's Requiem, and Verdi's Messa da Requiem.  He also performed in world premiere operas by Chan Hing Yan: Lu Xun (Heart of Coral), Moonlight (Ghost Love) and Kang You Wei (Datong); and Caterpillar and Duchess (Alice in Wonderland) by Valtinoni.  He recently sung Schubert's Winterreise (with Hong Kong City Contemporary Dance Company).
Being an active conductor, Wong is currently Chorus Master of Hong Kong Philharmonic Chorus, Music Director of The Learners Chorus and The Learners Orchestra, and conductor of Hong Kong Children's Choir and St. Paul's Co-educational College senior choirs.  Being recognized as an inspiring chorus and orchestral builder, from community to professional ensembles, he has introduced a broad variety of choral and orchestral music to the public: from Magnificat by Bach and Rutter, Brahms' Ein Deutsches Requiem and Schicksalslied, Gounod's St. Cecilia Mass, Lauridsen's Lux Aeterna, Lully's Te Deum, Mendelssohn's Lobgesang, Mozart's Great Mass in C Minor and Requiem, Rossini's Messa di Gloria and Stabat Mater, Tallis' Spem in Alium, Verdi's Messa da Requiem and Quattro pezzi sacri; to Mahler's Symphony No. 2 "Resurrection", Martin's Mass for Double Choir, Orff's Carmina Burana, Pärt's Credo, Poulenc's Gloria, Prauliņš Missa Rigensis, Prokofiev's Alexander Nevsky, Rachmaninoff's The Bells, and Stravinsky's Symphony of Psalms.
He has been the chorus master for conductors such as David Atherton, Lorin Maazel, Helmuth Rilling, Tan Dun and Jaap van Zweden; and has been assistant conductor in operas Aida, Don Giovanni, Gianni Schicchi, L'elisir d'more, La Bohème and Turandot.
Samuel Huang, concertmaster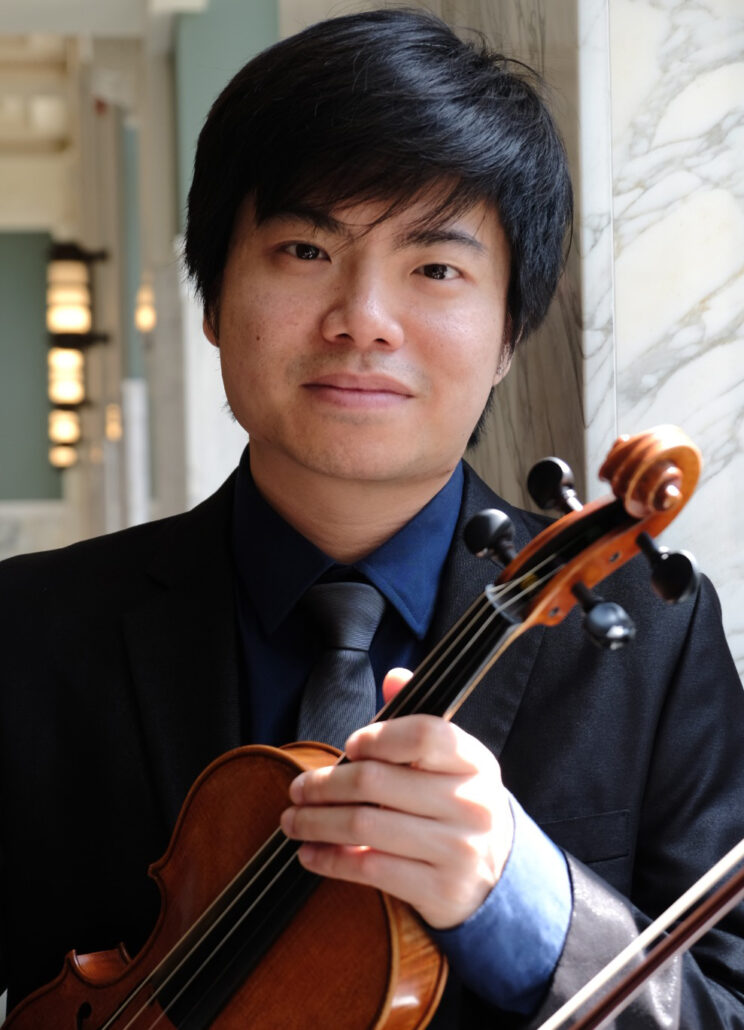 Samuel Huang was born and raised in Hong Kong, where he studied with Ray Tsoi at Hong Kong Baptist University, and with Ivan Chan at Hong Kong Academy for Performing Arts. He continued his studies in the United States under the tutelage of Benny Kim, Miami String Quartet, Cathy Meng Robinson, and Amy Lee at University of Missouri-Kansas City and Kent State University.
Winner of the Hong Kong Baptist University Concerto competition and UMKC Concerto/Aria competition, Samuel has appeared as a soloist and concertmaster with orchestras including Collegium Musicum Hong Kong, Pro Arte Orchestra of Hong Kong, Shenzhen Arts School Orchestra, the Kharkov Philharmonic Orchestra (Ukraine), Heartland Chamber Orchestra, Texas Festival Orchestra, and Miami Festival Opera Orchestra.
Samuel had served as the violinist of the NewEar Contemporary Chamber Ensemble in Kansas City for four years. As a chamber musician, he has collaborated with artists such as Ida Kavafian, Yekwon Sunwoo, and members from Miami String Quartet and St. Petersburg String Quartet. Apart from being a performing artist, Samuel has also given masterclasses as a visiting educator in various universities and festivals, including Western Illinois University, Fort Hays State University, and International Fringe Music Festival.
Candice Chung, soprano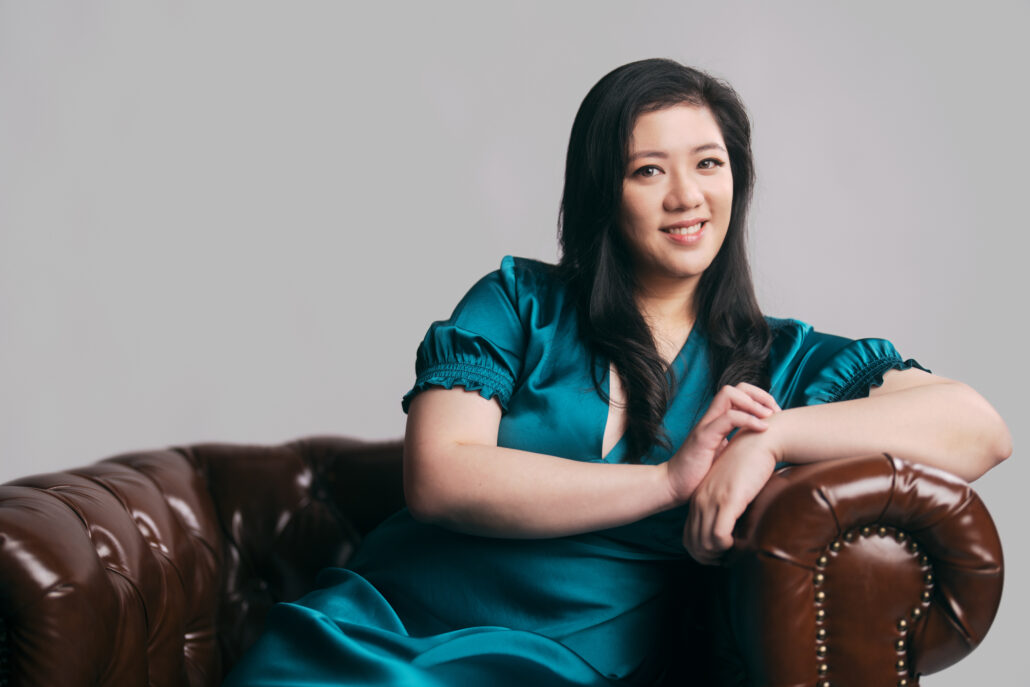 Soprano Candice Chung studied at the Manhattan School of Music and the Eastman School of Music. Her stage appearances included Norina in Don Pasquale, Fiordiligi in Così Fan Tutte in Hong Kong, the Countess in The Marriage of Figaro in Italy, and Rosalinda in Die Fledermaus in the United States. She has also graced the stage as the title role Manon and Micaela in Carmen. In June 2023, she was invited to sing in the world premiere of Tan Dun's "Requiem for Nature" in Holland Festival with the Royal Concertgebouw Orchestra, where she sang the role of the Deer of Nine Colors to critical acclaim. Chung's concert solo performances included Dvořak's Te Deum and Beethoven's Mass in C in New York, as well as Bach's Magnificat in D and Carl Orff's Carmina Burana in Hong Kong.
Samantha Chong, mezzo-soprano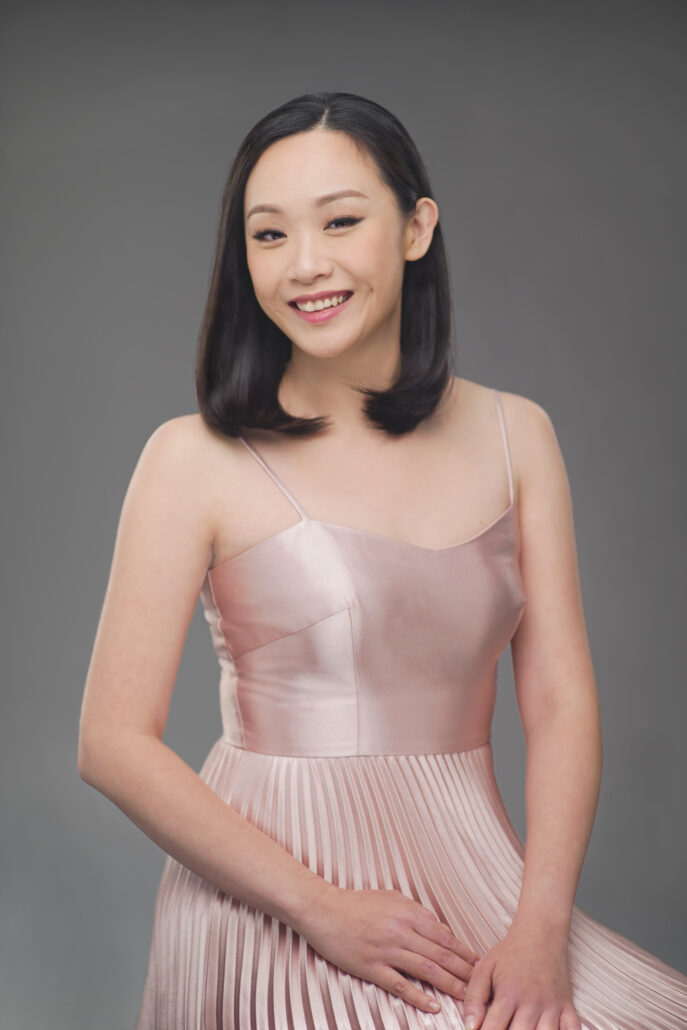 Samantha Chong has a widely varied repertoire ranging from early music, oratorio, songs, opera and contemporary works. Samantha is the winner of the 1st ASEAN Vocal competition, organised by Singapore Lyric Opera in 2016. After her graduation, she started her career as a soloist with the Hong Kong Philharmonic Orchestra, Opera Hong Kong, Musica Viva and Global Symphony Orchestra. Samantha has made her Italian debut in 2019 with Teatro Petruzzelli, singing Rosina in Il Barbiere di Siviglia. Recently, she was also invited to perform with Edinburgh International Festival,  Erasmus Orchestra, Hong Kong Art Festival, Hong Kong – Vienna Music Festival, Kuala Lumpur City Opera, Hong Kong Grand Opera. Singapore Lyric Opera, China Sichuan Music Conservatory and Mozart Festival in Shenzhen, China. Samantha is actively involved in contemporary opera in Cantonese in recent. Notably the Sect-mother in Kungfood, and also Fish in Women Like Us. Samantha appeared in the opening concert of Edinburgh International Festival this year, singing Tan Dun's Buddha's Passion.
Samantha graduated with the Master of Music Degree, having earlier earned her Bachelor of Music Degree both at The Hong Kong Academy for Performing Arts (HKAPA).
Bonnie Liu, mezzo-soprano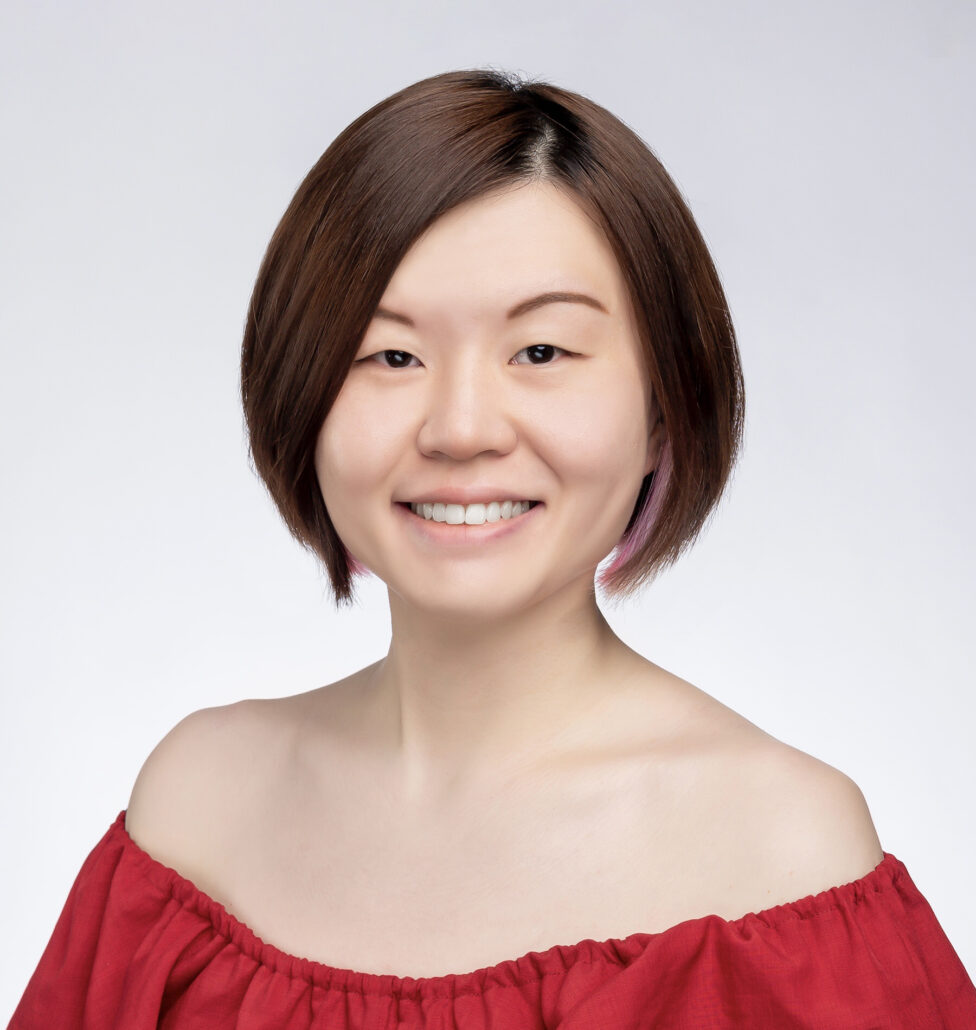 Liu sings as an opera singer and concert soloist from baroque to challenging contemporary repertoires. Recent performances include Giacinta in Mozart's La finta semplice and alto solo in Schubert's Mass No.5. For La finta semplice, she was also invited to sing in Television program 'The Works' by RTHK.
Her thoughtful interpretation in contemporary repertoires makes Liu a frequent performer of new music. She performed as a soloist in Tallinn, Estonia on Veljo Tormis 'Unustatud rahvad'. She also performed and recorded Dr Joyce Wai-chung Tang's soundtrack recording of the drama adaptation of Shakespeare's 'Much Ado About Nothing', Jimmy Shiu and Cheng Kai Ming's 'Bu Guo' and Hong Kong Visual Art Centre's an online media art project 'Dream Sequence'. Liu has performed in the 41st, 43rd, 50th and 51st Hong Kong Arts Festival's chamber opera productions, Professor Chan Hing Yan's 'The Heart of Coral', 'Datong' and Dance in Opera: Professor Chan Hing Yan and Daniel Lo's 'Love Stream'.
Apart from performances, Liu is also keen on promoting vocal arts to the community. She joined 'Music on the rails' program organised by Foundation for Arts and Music in Asia.
She has been chorus fellow of Hong Kong Philharmonic Orchestra since 2021. She has performed in numerous projects, including Hong Kong premier BBC Blue planets II Live in Concert with the Hong Kong Philharmonic Orchestra.
Liu graduated from Hong Kong Baptist University with Bachelor of Arts in Music. Under the tutelage of Ms Chan Siu-kwan, she passed LTCL with high distinction. She is the recipient of Royal Welsh College of Music and Drama Scholarship and will pursue further studies at the college.
Freddie Tsang, tenor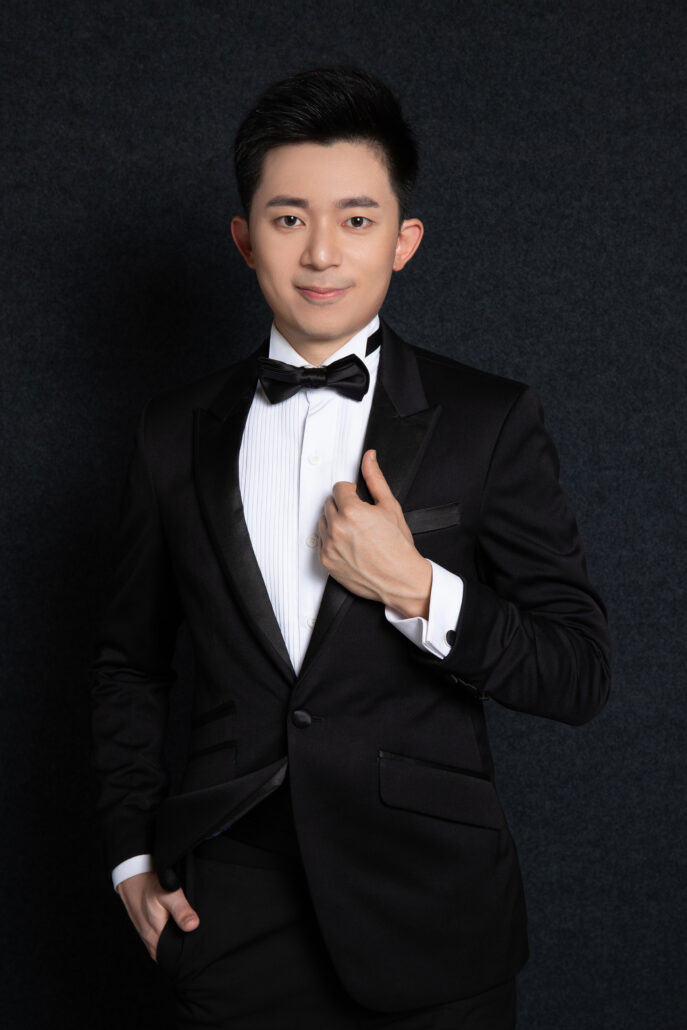 Tenor Freddie Tsang is a graduate of The Hong Kong Academy for Performing Arts (HKAPA), from which he attained his Bachelor and Master of Music degree under the tutelage of Soprano Nancy Yuen and tenor David Quah. He is the recipient of several prestigious scholarships, including the HSBC Hong Kong Scholarship, the Royal Commonwealth Scholarship, Cecil Leong Scholarship, Nancy Yuen Scholarship and The APA Society Scholarship. He has attended masterclasses with world-acclaimed singers including Francisco Araiza, Nelly Miricioiu, Mario Diaz, Shen Yang, Warren Mok, Marco Berti, Valentina Farcas, Lio Kuokman, Darryl Edwards and Michael Chance. Tsang was one of the finalists in Concorso Lirico Internazionale "Gaetano Donizetti" in Como, Italy.
Tsang has appeared frequently in opera and concert performances presented by Musica Viva, Hong Kong Oratorio Society, Bel Canto Singers, Ponte Orchestra, Gustav Mahler Orchestra, Hong Kong Youth Choir, Yip's children's choir, HKAPA and Hong Kong Baptist University Christian Choir. His operatic roles include title role of Mozart's Idomeneo, Turiddu in Mascagni's Cavalleria Rusticana, Belfiore in Mozart's La finta Giardiniera, Kai in Pierangelo Valtinoni's La Regina delle Nevi, Sesto in Handel's Giulio Cesare, Monostatos in Mozart's Magic Flute, Yan Hui in Gustav Ma Ka Lok's The Legend of Confucius, Luigi in My Beloved and Danilo in The Merry Party by Bel Canto Singers. As a concert soloist, he has appeared as tenor soloist in Mozart Requiem, Puccini's Messa di Gloria, Handel's Messiah, Beethoven Symphony No. 9, Verdi's Messa da Requiem and J.S. Bach's Magnificat in D major. In addition, he is a chorister of Noēma, a recently established choir that has quickly gained recognition in Hong Kong's music scene.
Caleb Woo, bass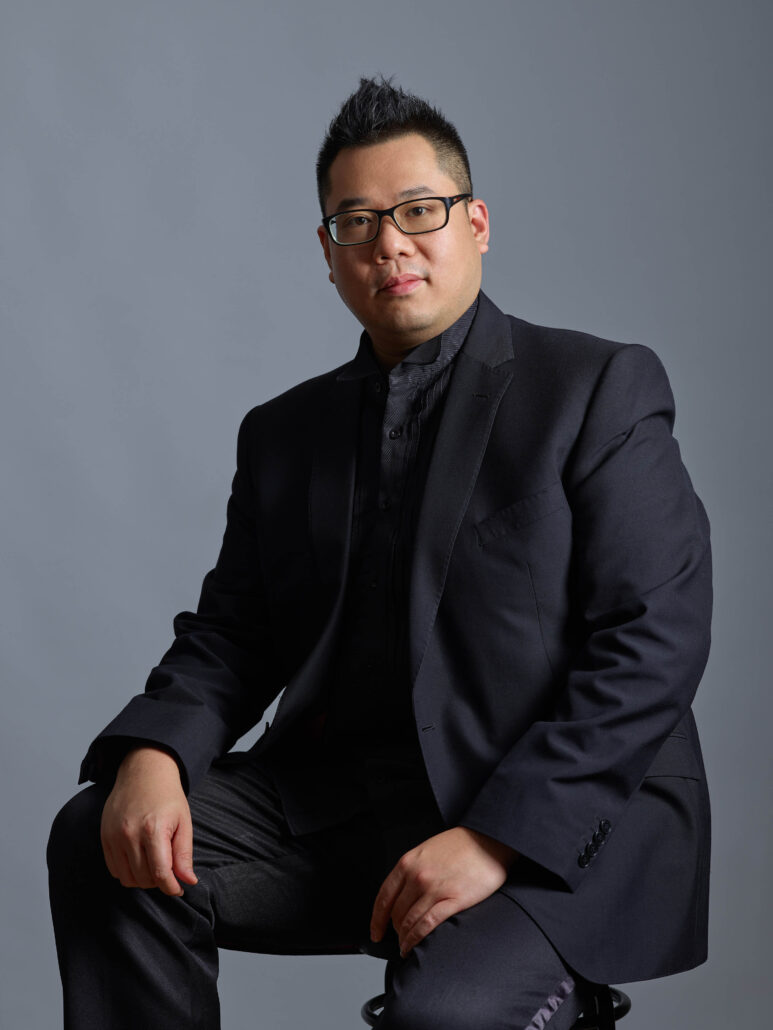 Lyric Baritone Caleb Woo was granted chances to perform many Bach vocal works, such as St John Passion, St Matthew Passion, St. Mark Passion, Magnificat, Christmas Oratorio, B minor Mass, Cantata 4, 6, 21, 22, 30, 38, 47, 56, 62, 70, 78, 80, 82, 94, 102, 131, 139, 147, 158 and 211 in these few years, which brought him to perform under the baton of John Butt, David Chin, Wolfgang Katschner, Felix Yeung and Felix Shuen which enhanced his understanding of early music appeared in BachFest Malaysia, Thüringer Bachwochen; The Performances of Oratorio such as Handel's Messiah, Israel in Egypt, Hadyn's The Creation, Mozart's Requiem, Mendelssohn's St. Paul's and Elijah, Faure's Requiem, Brahms' Ein Deutsches Requiem which brought Caleb to collaborate with Christopher Seaman, Helmuth Reiling, Paul Goodwin, William Weinert, Johnathan Cohen, Jahja Ling, Lio Kuokman and Yip Wing-sie. Caleb also participates in Opera productions, recently he participated in the production of Por Por and Women Like Us, the award-winning Opera Angel's Bone produced by the New Vision Arts Festival and the Beijing Music Festival; original Operas composed by Chan Hin-yan, Kungfood, Datong  and the Heart of Coral,  Caleb also participated in productions by Opera Hong Kong, Hong Kong City Opera, Musica Viva, Pop up Production, putting up La Traviata, Orphee aux enfers, La Bohéme and to name a few. 
Caleb graduated with the Master of Music degree in Voice Performance and Literature at Eastman School of Music, University of Rochester, New York. Caleb holds degrees from the Hong Kong Baptist University including the Bachelor of Arts degree in Voice Performance and Pedagogy in 2006 with first class honor as well as the Social Science degree in China-Studies in 2003. Master of Arts degree in Christian Studies from the Chung-Chi Divinity School, Chinese University of Hong Kong in 2007. ATCL diploma and LRSM diploma in 2005 and 2009 respectively. His voice teachers include Prof. Robert McIver, Mr. Jimmy Chan and Mr. Sanson Lau.
Now serving as the Music director of Tuen Mun Alliance Church and Voice Instructor at Music Department, Chinese University of Hong Kong and Qin Music. He is also serving as an assistant professor at WongBing Lai Music and Performing Arts Unit, Lingnan University, resident artist of the Education University of Hong Kong, Co-ordinator of Ensemble Music Ministries in the Hong Kong Baptist University and conductor of The University of Hong Kong Chamber Singers. Elected as a Member of National Association of Teachers of Singing (NATS) and President of the HK Chapter devoting himself into promoting healthy vocalism and the ability appreciating the beauty of voice as creation.
The Learners Chorus

Music Director & Conductor:  Apollo Wong
Assistant Conductor:  Jason Liu
Pianist:  Alexander Wong
The Learners Chorus was founded in 1979 by former members of the Hong Kong University Students' Union Choir.  Its repertoire includes a wide spectrum of choral works, and commissioned works by distinguished Hong Kong composers, including Dr. Chan Hing Yan, Dr. Victor Chan, Dr. Daniel Law, Mr. Law Wing Fai, Dr. Phoebus Lee, Mr. Jason Liu, Mr. Michael Mak and Dr. Richard Tsang.  Major choral works presented and performed in recent years include Bach's Magnificat, Bernstein's Chichester Psalms, Brahms' Ein Deutsches Requiem and Schicksalslied, Faure's Requiem, Gounod's St. Cecilia Mass, Lully's Te Deum, Mahler's Symphony No. 2 "Resurrection" and Symphony No. 8 "Symphony of a Thousand", Martin's Mass for Double Choir, Mendelssohn's Lobgesang, Mozart's Great Mass in C Minor and Requiem, Orff's Carmina Burana, Pärt's Credo, Poulenc's Gloria, Prauliņš' Missa Rigensis, Rachmaninoff's The Bells, Rossini's Messa di Gloria, Petite Messe Solennelle and Stabat Mater, Rutter's Mass of the Children, Stravinsky's Symphony of Psalms, Tallis' Spem in Alium and Verdi's Messa da Requiem and Quattro pezzi sacri.
Apart from hosting large-scale concerts with its official orchestral partner, The Learners Orchestra, the Chorus has also given guest performances both locally and abroad.  In 2013 and 2014, the Chorus performed Britten's War Requiem with the Hong Kong Philharmonic Orchestra and its Chorus under the baton of the late Maestro Lorin Maazel, and to celebrate "Hong Kong Cultural Centre – Celebrating 25 Years" respectively.  In 2015, Learners performed at "Macao Soul" with the Macao Orchestra and the Macao Perosi Choir at the 26th Macao Arts Festival.  In July 2016, in collaboration with the Hong Kong Economic and Trade Office, London, Learners gave its London debut at St John's Smith Square, performing a wide range of choral works in nine different languages, of different styles and from across different eras.  In August 2016, alongside the Arnold Schoenberg Choir, the Vienna Boys' Choir and the Hong Kong Treble Choir, Learners performed Mahler's Symphony No. 8 "Symphony of a Thousand" at the Hong Kong-Vienna Music Festival.  In May 2017, Learners performed at "紫荊花開", a joint choral concert with the Shenzhen University Caisangzi Chorus (深圳大學采桑子合唱團), at the Shenzhen x Hong Kong Art & Culture Exchange Festival (深港青年文化交流藝術季).  In 2018, Learners gave three visits to Macau to participate in the recording session of Te Deum by Macanese composer Fr. Áureo in May, and perform at "Heroes: A Video Game Symphony" and "National Geographic: Symphony for Our World" with the Macao Orchestra under the baton of Maestra Jessica Gethin, in June and November respectively.  In April 2019, alongside the Shenzhen Symphony Orchestra, Learners performed at "Arias between Western & Eastern", the closing concert of the 2019 Shenzhen Belt & Road International Music Festival.  In August 2019, in collaboration with the Dream Orchestra of Los Angeles, Learners gave its North American debut, performing both at the Los Angeles International Choir Festival and, alongside the Opera Chorus of Los Angeles, "Verdi Requiem" at the Cathedral of Our Lady of the Angels.
Learners is devoted to promoting music among young people.  Students are often invited to sing with the Chorus or play in The Learners Orchestra alongside professional musicians.  Young choir members interested in choral conducting have been offered the chance to conduct the Chorus in various concerts.  Young musicians also give guest performances in its concerts.  "Learners Learning" Concerts have been held to improve choir members' vocal skills through ensemble or solo singing.  During school breaks, Learners' student members are often sponsored by friends of Learners to participate in vocal workshops and master classes given by its Music Director.  Student Ticket Sponsorship Programme has served its mission of extending music appreciation opportunities among Hong Kong's youth.  Since 2006, almost 7,000 students, many first-timers, have received tickets to its concerts, all sponsored by benevolent friends of Learners.
Active in community and charitable work, Learners has also given performances at elderly homes, disabled homes and sheltered workshops.  Learners has also presented outreach programmes at community centres in London, featuring both choral singing and interactive games with the audience, both of which were positively received.  Net ticket proceeds from fundraising concerts have been donated to charitable projects of the Hong Kong Christian Council, including the "Rebuilding Village Clinics Project", "Water Cellars for Homes Project", "Rebuilding Collapsing Schools Project", "Senior High School Sponsorship Project", "School Library Books Project" in China, "School Building Project in Myanmar", "Village Development in Myanmar Project", "Feeding Program in Myanmar / Cambodia" and "COVID-19 Relief Projects".  Learners has also raised funds for A Drop of Life Limited to install water cellars in Gansu, and participated in their "Walk for Water" project.  The Chorus has also co-presented earthquake relief concerts in the past, including, most recently, "The Future of Nepal: Fundraising Concert for 4.25 Earthquake Victims" in May 2015.  In June 2015, Learners performed at "Michaelmas Fair 2015 Concert – Hope and Dream", a fundraising concert organized by St John's Cathedral of Hong Kong.
By cultivating youth education through the aforesaid means, Learners strives to abide by its name in a fuller sense.
The Learners Orchestra

In April 2006, a group of caring orchestral players performed in "A Tribute to Mozart – Requiem and other works", a charity concert presented by The Learners Chorus (the "Chorus") to commemorate the 250th birthday of Mozart. In September 2007, the Friends of Learners Orchestra (the "FLO") was officially founded and made its debut at the Chorus' annual concert at the Hong Kong Cultural Centre, featuring Prokofiev's Alexander Nevsky cantata.  Since then, FLO has performed with the Chorus in its large-scale concerts, namely, "Magnificat through the Ages", "Celebrating Thirty Years of Harmony: Gustav Mahler Symphony No. 8 Symphony of a Thousand", "Rossini Messa di Gloria & Brahms Schicksalslied", and "Giuseppe Verdi: Messa da Requiem".  At its performance in "Celebrating Great Masters for the Voice" in September 2013, FLO was renamed The Learners Orchestra ("TLO"), making it the official orchestral partner of the Chorus.  As part of the Chorus' 35th Anniversary Concert Series, TLO held its inaugural concert with the Chorus in May 2014, performing "Mahler Symphony No. 2 Resurrection", followed by "Brahms Ein Deutsches Requiem" in August 2014.  Subsequent to that, TLO performed in the 2015 SliderAsia Music Festival's "SliderAsia Open Winners Feature & Learners Orchestra Concert", "La Musica Sacra Italiana" in July 2015, "Songs of Praise – in Voces Multi" in January 2016, featuring Lully's Te Deum, "Mozart Great Mass in C minor" in September 2016, and "Lux Aeterna" in January 2017.
2017 also saw the 10th anniversary of the Learners Orchestra.  "10 May x 10 Years: A French Celebration" concert was held in May 2017, featuring Saint-Saëns' Symphony No. 3 in C minor "Organ".  This was followed by "Lights of Belief and Praise" in September 2017, "A Bicentennial Celebration: Gounod St Cecilia Mass" in September 2018, "UC Conductors Through the Ages" in January 2019, featuring Fauré's Requiem, "Tchaikovsky Symphony No. 4" in June 2019, and "Carmina Burana" in November 2019.
Members of TLO are recruited from various local schools and universities, as well as from community and professional orchestras.  All members strongly dedicate themselves to supporting charitable performances of the Chorus without receiving any honorarium.  Their selfless and benevolent effort, and consistently high performance standards have been much appreciated by the Chorus, the audience, and all beneficiaries.  TLO also aims to play a vital role in promoting music education – specifically, by providing opportunities for music students to work alongside their teachers, amateurs alongside professional musicians; and in expanding their concert repertoire beyond standard orchestral music.
Mass in B minor, BWV 232
Johann Sebastian Bach (1685-1750)
Johann Sebastian Bach is often considered one of the greatest composers in Western music history. His compositions, distinguished by their intellectual depth, technical command, and artistic beauty, had culminated the climatic point of the Baroque style, and had profoundly influenced subsequent Western classical music. Among his most celebrated works is the Mass in B minor, a musical setting of the Latin Mass.
Although Bach composed several other Mass settings, the B minor Mass is unique, being his only setting of the complete ordinary of the Mass. It is also one of his last major compositions. The work was completed in 1749, a year before his death, but it was never performed in its entirety during his lifetime. The first recorded complete performance of the Mass in B minor took place more than a century later, in 1859.
The B minor Mass is a compilation of pieces composed over a span of 25 years. It includes newly written music as well as adaptations of earlier works, such as cantatas, and a previously composed Kyrie-Gloria Missa in B minor in 1733 which formed the initial part of the Mass. Reusing or compiling existing music for a new context was common during Bach's time.
The Mass is divided into four major parts: Missa, Symbolum Nicecum, Sanctus and Osanna, Benedictus, Agnus Dei et Dona Nobis Pacem. Each part is made up of several movements, each developed from one or a few sentences in the liturgy text.
I. Missa
The Mass begins with the Kyrie, a plea for divine mercy. It consists of three movements: the Kyrie Eleison I, Christe Eleison, and Kyrie Eleison II, expanded from the structure of the original liturgy.
The first Kyrie eleison begins with a monumental chordal outcry, followed by an intricate choral fugue in B minor, characterised by its complex counterpoint and somber mood. Christe eleison is a duet for two soprani, intertwined by a beautifully woven violin line. The second Kyrie eleison is another choral fugue, this time in F-sharp minor and somewhat in the manner of stile antico, resembling late Renaissance style with controlled chromaticism, dissonance and modal effects. Nonetheless it maintains the solemnity of the initial Kyrie.
The chorus opens the Gloria with Gloria in excelsis Deo, a joyous dance-like movement in D major, featuring a triumphant trumpet line and energetic string accompaniment, and it is connected to the fugal Et in terra pax which displays some melismatic sequences across voice parts. It is then followed by Laudamus te, a soprano aria accompanied by a solo violin, and Gratias agimus tibi, a choral movement that is a reworking of the earlier Cantata 29 Wir danken dir, Gott (We thank you, God) written in 1731. This movement begins in the style of Renaissance polyphonic motet, and Bach gradually intensified the atmosphere through thickening the instrumental texture, which is in turn more of a Baroque way of writing.
Domine Deus is a duet for soprano and tenor with flute obbligato. It is immediately followed by Qui tollis, a choral movement in B minor with a mournful character emphasised by the minor key and the use of the flute duet supported by strings. It was reworked from a portion of Cantata 46 Schauet doch und sehet (Behold and see if there be any sorrow like unto His sorrow). Qui sedes is a movement featuring the alto solo and oboe d'amore. Quoniam tu solus sanctus is a bass aria with corno da caccia ("hunting horn") and a pair of bassoons, then immediately followed by Cum Sancto Spiritu, a glorious, complex and agile choral fugue in D major concluding the entire Gloria.
II. Symbolum Nicenum
Symbolum Nicecum (Nicene Creed), is what we generally simply refer as Credo by the initial word of the text. The section contains nine movements, and displays Bach's attention to musical structure in relation to the text. It begins with two choral movements – Credo in unum Deum, another fugal movement characterised by a steady walking bass in the continuo part and somewhat inspired from the older church style with the use of mixolydian mode, followed by Patrem omnipotentem, which was probably reworked from a chorus of praise from Cantata 171 Gott, wie dein Name, so ist auch dein Ruhm (God, as Your name is, so is also Your praise).
Et in unum Dominum is a duet for soprano and alto with oboe d'amore and strings. The chorus then presents an intensely somber mood in Et incarnatus est, emphasised by the use of chromaticism and dissonance which prepares the despair in Crucifixus. This central movement (5th out of 9) in the Symbolum Nicenum is a passacaglia in E minor, a lamenting movement that depicts the crucifixion. It was reworked from Bach's early Cantata 12 Weinen, Klagen, Sorgen, Zagen (Weeping, lamenting, worrying, fearing) written in Easter 1714. It is worth noting that the placement of Crucifixus at the very heart of this setting coupled with Bach's sense of structure and religiosity, with regards to crucifixion as the centre of Christian belief.
The music then springs to the joyous Et resurrexit in D major, filled with trumpets and drums and energised with a polonaise-like rhythm. Et in Spiritum Sanctum is a bass aria with oboe d'amore obbligati. To complete the symmetry of the Credo, it is concluded by two choral movements – Confiteor is another fugue in F# minor, and after going through a transition passage that is some of the most mysterious and harmonically adventurous of the entire mass, it arrives at Et expecto, a jubilant and celebratory conclusion in D major.
III. Sanctus
Sanctus is a six-part choral movement in D major, characterized by its soaring triplets, and the bass line with leaping octaves. It is then connected to Pleni sunt coeli, a quick and jubilant fugue in 3/8 time with long melismatic passages.
IV. Osanna, Benedictus, Agnus Dei et Dona nobis pacem
Osanna is a festive movement featuring double chorus. It was reworked after his Cantata 215 Preise den Glücke (Praise your good fortune), a secular cantata in honour of the coronation of August III as King of Poland. It is then followed by Benedictus, a tenor aria with only flute and continuo as the ensemble. After a reprise of Osanna, a mournful Agnus Dei in G minor is brought by the alto solo.
Finally, the mass concludes with Dona nobis pacem, a movement in D major that reuses music from the earlier Gratias agimus tibi, a fitting end to the monumental work.
From the solemn pleas for mercy in the Kyrie to the eventually triumphant declarations of faith in the Credo, from the contemplative Agnus Dei to the joyous Gloria and Sanctus, the Mass takes listeners on a profound spiritual and emotional journey. The Mass in B minor is not just a testament to Bach's music as a culmination of an era, but also a celebration of the human spirit's capacity for faith, hope, and joy.
Programme Notes:
Jason Liu
Music Director & Conductor:  Apollo Wong
Assistant Conductor:  Jason Liu
Pianist:  Alexander Wong
# Concertmaster
* Principal
The Learners Chorus would like to express her gratitude to the following individuals and organizations for their valuable support in the production of this concert:
Ms. Audrey Chan
Ms. Vivian Chan
Mr. Brian Chan
Prof. Cheung Him
Ms. Samantha Chong
Ms. Candice Chung
Mr. Samuel Huang
Ms. Kath Lit
Ms. Bonnie Liu
Prof. Johnny Poon
Mr. Benedict Shea
Mr. Gary Tong
Mr. Freddie Tsang
Mr. Alexander Wong
Mr. Vicky Wong
Mr. Caleb Woo
Mr. Kris Yee
All players of the Learners Orchestra
Academy of Music, Hong Kong Baptist University
City Performing Arts Services Company
Hong Kong Christian Council
Hong Kong City Hall
Methodist International Church Hong Kong
Pica Pica Media Limited
The Leisure and Cultural Services Department
The Learners Chorus would also like to thank the following individuals for their generous sponsorship of free tickets for students and/or donation to the Hong Kong Christian Council's "Feeding Program in Southeast Asia":
Mr. Andrew Chan
Dr. Chiu Shui Wah
Dr. Edward Lai
Dr. Annie Wong
Ms. Annie Wong
Mr. Arthur Wong
Dr. Henry Yuen